Buying an Engagement Ring Made Simple
Read This If You're Buying For Someone Else
As a GIA-certified gemologist with 20 years of making engagement ring dreams come true, I know what women want – the right combination of size and quality. So let us make this easy for you. You tell us your budget, and we'll pick the biggest and most beautiful diamond for your future wife. There's no need to worry about learning every detail of the 4Cs or whether or not you're buying the right one because we guarantee she loves it or your money back. All of it.
Read This If You're Shopping For Yourself
Thinking they'll pop the question soon? We've got you covered! Want to make sure you get the engagement ring you really want? Check out our Engagement Ring Buying Guide. Not sure which ring style is for you? Try on a few from the comfort of your own home.
With gorgeous engagement rings in every style, talented custom jewelry designers, and a staff of diamond experts, our team is ready to make your diamond dreams come true. Browse our engagement rings, get a feel for what you like, and don't be afraid to ask questions! Contact us with any and all questions you have. We're here to help!
Your Perfect Ring is Waiting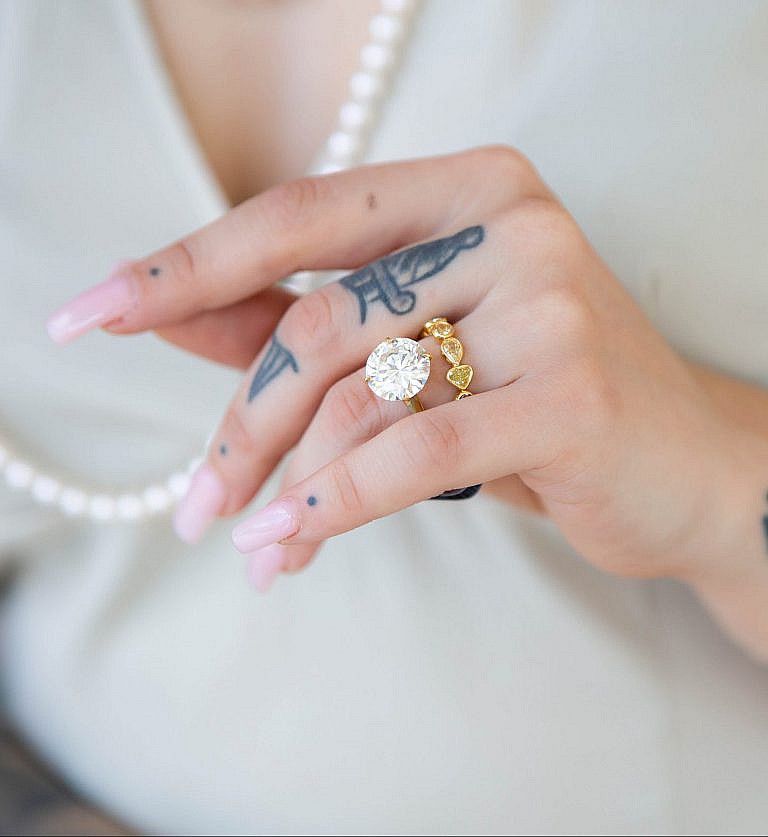 The Truth About Diamonds: Not All Diamonds Are Created Equal
Most online diamond retailers don't have the diamond you buy from their website in stock. They'll ship you a diamond straight from the broker without even looking at it. We could never operate like that. I love diamonds and jewelry too much to select any diamond for you that isn't the utmost balance of cut, color, clarity, and, most importantly, carat weight.
Two diamonds can grade out at the same color, cut, clarity, and carat weight but look completely different. To ensure we only carry the most beautiful diamonds, our in-house team of graduate gemologists inspects every diamond we sell for beauty and quality before we list it for sale. This is how we ensure any diamond you buy from Marcilla Bailey is not only stunning but also the very best value for the price.
The Marcilla Bailey Diamond Difference
The Marcilla Bailey Engagement Ring Manual
We've created the perfect tool to help couples find the perfect ring! Chat through these questions with your partner to make sure you're on the same page about everything from budget to ring style.
Check It Out!
Questions About Diamonds - Engagement Ring FAQs
Most of the sites you're looking at aren't jewelers, they are tech companies that sell jewelry. These are merchants buying mass-produced rings and the cheapest diamonds possible that grade out well and look good on paper. These diamonds never have the optical purity of what we would select with the exact same grading.
Every category of cut, color, and clarity has a range. If a diamond's clarity is graded as SI1, which is Slightly Included, there is a range that it lands somewhere in between VS2 and SI2. Some diamonds in this range are almost VS2 and others are borderline SI2. A GIA-certified gemologist can find the one that's closer to the top for the same money. Marcilla also has a knack for finding that one diamond in the mix full of life and vibrancy with its personality shining through. We're experts on diamonds and the 4C's so we'll make sure you get the most beautiful ring at the best value for your budget.
Did you know those sites usually don't have the diamonds listed on their site? They are listing what's available from diamond brokers across the country. They don't care what the gemstone looks like because they are focused on selling it for cheap, but you get what you pay for. Chances are, the 30,000 jewelers across the country have passed over that gemstone, which made it a good deal for the diamond site. When you order it, they will set it and forget it.
 At Marcilla Bailey, we only purchase diamonds that are ethically and sustainably sourced. All of our diamond suppliers are members of the Kimberley Process and are required to sign a contract stating that they are not dealing with diamonds that might be from areas of conflict.